For this post, im going to steal from my love, Andrea's travel journal. I feel like her entry the day after we shot Bradford and Leslie's wedding in Austin Texas (yeeeww) summed up the night perfectly. Over to Andrea.
"My favourite time of the day was a fully unplanned one. When after all was said and done (and 150 people had danced and drank and ate their way through a massive sound system and a five hour dance floor), it was the 1:00 am shut off for the mood lighting and the best DJ on the planet earth (The Flashdance). They turned on the tin lights and shut off the strobes. "Time to get on the shuttle bus everyone!" the planner yelled out to the remaining 30 people (including us). With that, the Mr. Dance, who had been throwing down tracks like a crazy man, turned on a slow song while he packed up his gear. The song turned out to be "The Bad Days" by David Ramirez, and was one of the couple's self proclaimed anthems.
Without a word or a pause, Bradford grabbed Leslie and held her tight and close, in such an intimate embrace I was almost inclined to look away. About 15 of us sat on the slide lines of the crumpled glitter-covered d-floor, under the fluorescent lights, and watched them sway and lip-sync to one another for the 4 minutes of the song. The bright lights, the flash, the planning, and the mania of the wedding day were gone. As all of us were sitting there watching, suddenly those two were the only ones in the room.
I thought, 'There it is. That's why we're here.'
Ok, so lets put this moment into perspective a little. The below set of images represent the 4 hours of D-floor leading up to this dance.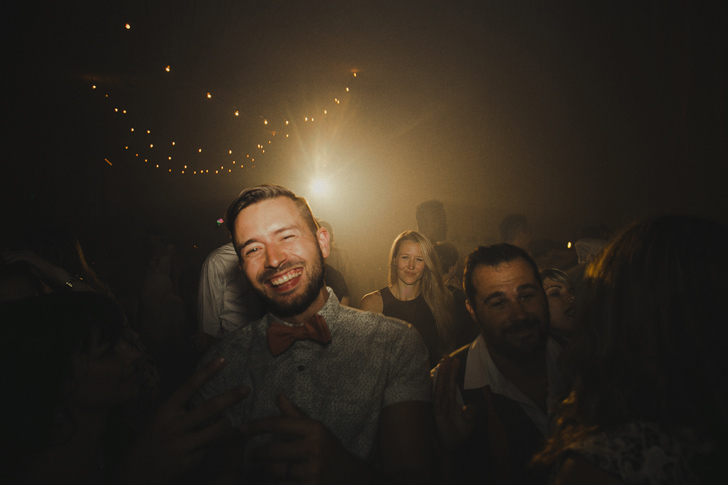 Ok, perspective injected.
So let's enjoy this moment again.